Relationships are the lifeblood of mathematics, and it is worthwhile for students to associate multiplication and division. Initially, to support students in thinking through representing situations flexibly, early lessons begin with presenting a division sentence with the student work on a task. For example, in Lesson 3, Teresa's approach on the Flower Pot task begins with a division sentence to represent the Filling Flower Pots task, written in Teresa's handwriting:
We present a fictitious student's work as a means to show how a task might be identified as relating to a division sentence/equation, and to encourage students to generate a multiplication or division sentence themselves. Then, in subsequent lessons, such as in Lesson 4, we prompt students to write a division sentence or to match a given division sentence to mathematics task, such as in Lesson 5:
3. Write a division sentence using the important information from The Gardener's Flower Pots task. You do not need to calculate the solution.

÷= ?

What division sentence below matches the question: How much soil fills each blue flower pot?

4 ÷ 5 = ? 5 ÷ 4 = ?
Furthermore, seeing the relevance of multiplication to solving the task can help students see both multiplication and division as options for the same task. Most students see multiplying and dividing as inseparable partners, and understanding this partnership provides students with options when understanding task contexts and when solving tasks. For example, the Fish Tank task, introduced in Lesson 7, can be approached as a division task (10 ÷ = ?) or as a multiplication task ( x ? = 10), or even as a unit rate task (amount of water per fish tank).
Fish Tank
10 gallons of water fill of a fish tank. How many gallons of water completely fill the fish tank?
In addition, this task offers an opportunity for students to consider representing times an unknown number. Students could solve the task algebraically, x ? = 10; few sixth-graders, however, would represent this as an algebraic equation. In our experience, diagramming is an approach many students use to exploit the visual nature of the task and to represent both the amount of water and the fractional tank. For example, this student envisioned the tank as a rectangle and divide it into fourths: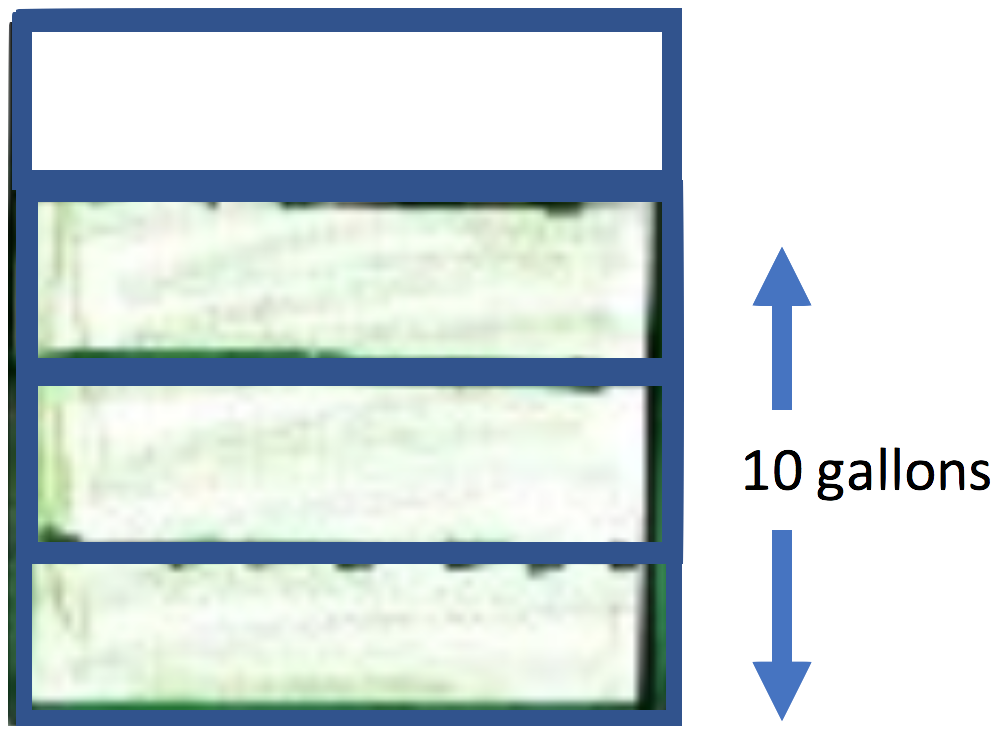 This student divided the rectangle horizontally in order to preserve the visual representation of water in a tank. A diagram support students to represent a task as both a multiplication task, where x ? = 10 is shown with shading, and as a division task, 10 ÷ = ?.
Having the flexibility to frame a situation as either division or multiplication benefits problem solvers because they can choose an approach that makes sense to them. Furthermore, when we do not emphasize the relationship between multiplication and division, students may develop the belief that fraction division exists in a region of "doing math" that is totally divorced from the region in which multiplication exists. Being aware that a division equation can be re-written as a missing-value multiplication equation is valuable in solving problems and to recognizing relationships.